Good News - Congratulations on the round pipe products of Tianjin Yuantai derun Steel Pipe Manufacturing Group have obtained the European standard certification!
On January 5, 2023, Tianjin Yuantai Derun Steel Pipe Manufacturing Group obtained the European standard certification of round steel pipes. The products certified this time have been expanded in size, thickness, specification and material. The extension and addition of the European standard round pipe EN10219 certification represents the firm determination of Yuantai Derun Steel Pipe Manufacturing Group to move towards a versatile manufacturer of structural steel pipes.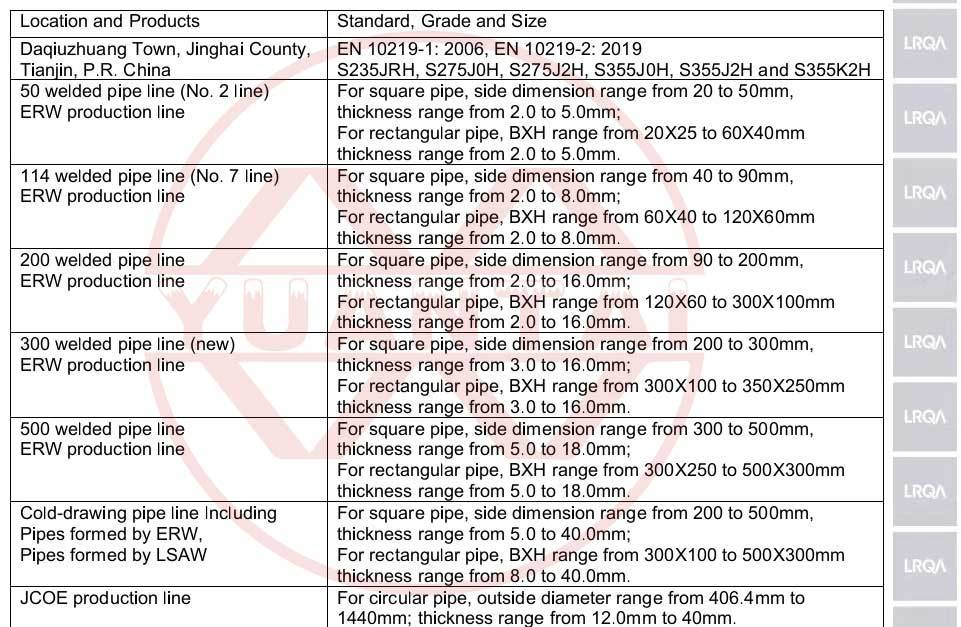 As we all know, square and rectangular tubes are formed and rolled from round tubes. We can make square and rectangular tubes that conform to European standards EN10210 and EN10219, which means that our circular tube products must also conform to the certification standards of European standards EN10219 and EN10210. In fact, customers have come to us to purchase round steel pipes for a long time, and all the performance parameters of our products are up to standard, especially the quality of welding seams, which is several grades higher than ordinary manufacturers. The addition of EN10219 certification of round pipes has enriched our product inspection and certification standard system. It also makes the customers who are going to purchase round pipes more confident and reassured, because your products have another layer of product quality assurance.
Up to now, our steel pipe product certification system is as follows:
European standard certification: EN10210 EN10219
American standard certification: ASTM A500/501
Bureau Veritas Certification: BV
Certified by Det Norske Veritas:DNV
American Bureau of Shipping Certification:ABS
Singapore FPC certification: BC1
American green building materials certification: LEED
GB certification of the People's Republic of China: GB/T6728, GB/T9711, GB/T3091/3094
Australian Certification: AS1163