Tianjin Yuantai Derun Steel Pipe Manufacturing Group Co., Ltd. wishes the world's female friends a happy Women's Day!
Tianjin Yuantai Derun Steel Pipe Manufacturing Group Co., Ltd. wishes the world's female friends a happy Women's Day!
On this special day, Tianjin
Yuantai Derun
Steel Pipe Manufacturing Group Co., Ltd. wishes the world's female friends a happy holiday!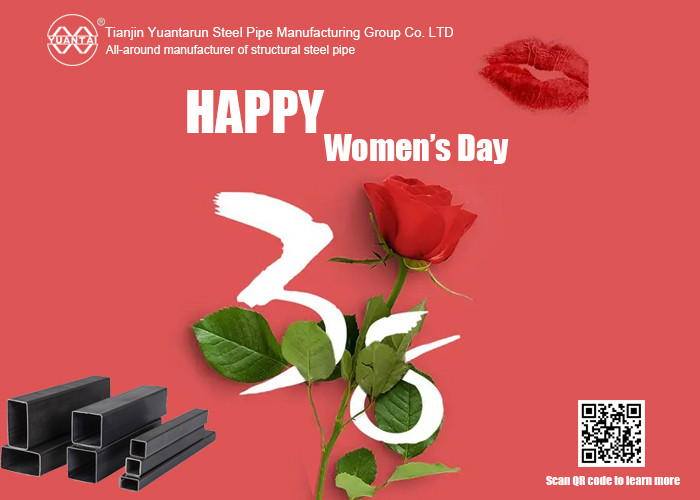 1、 Take what you have and exchange it for what you want. The world has always been so cruel, but fair.
2、 One day, I will make the people who love me proud, the people who abandon me regret, the people who hate me are not happy, and the people who laugh at me are stunned.
3、 In this age of promiscuity, a "dear" is at best a hello, and a "invite you to dinner next time" is at best a thank you. Why take it too seriously.
4、 Be generally kind, and then just be indifferent, and stop caring, and your life will be much easier.
5、 Even if it is very hard, still work hard. The determination not to give up will become a star on your shoulder and light you up.
6、 When you are unhappy, you always want to do something, such as cut your hair short, run ten kilometers, delete all your friends and Weibo. In fact, you can only live well.
7、 This short life, we will eventually lose. You might as well be bold, love a person, climb a mountain and chase a dream.
8、 Growth is like this, pain and happiness. You have to accept all the harm the world has brought you and grow up fearlessly.
9、 Not good enough to rely on others; Not mature enough to trust all dazzling coats; Not strong enough to waste time to cater to their playfulness.
10、 There will always be a hard time for you to doubt yourself, but when you experience more, you will find that it is just the normal state of life.
11、 Only through the days when no one cares, can we have poetry and distance. Life is not to rush, but to feel the way.
12、 When we do anything, we first think about what others will think. Almost half of the troubles and troubles in life come from our anxiety about the results of our actions—— schopenhauer
13、 If everyone you meet is friendly and kind, it is probably because you are such a person.
14、 Most of the loss in the world is because we don't want to be better ourselves, but we expect others to be better.
15、 Life is not so much poetry and distance, but more frustrations and helplessness. Don't complain while doing nothing. Learn to be down-to-earth, and more importantly, take things as they are.
16、 In fact, an honest lifestyle is to act according to your body's wishes, eat when you are hungry, and don't lie when you love.
17、 You should believe that someone is coming to you, and he will bring you the most beautiful love. All you have to do is take good care of yourself before that person appears.
18、 If you want to be a cool person, you will wake up as soon as the alarm clock rings, and you will not turn back when you leave. Even if you say goodbye, you will put your hands in your pockets. You will never feel sad and shed tears. It doesn't matter what the way ahead is, just walk freely.
19、 Life is to stab you repeatedly with a knife while blaming you for not being invulnerable for so long.
20、 I hope that in the future life, I will be positive and not too bad. If I can't do anything well, I will make myself happy first.
21. When you feel that your life is not so good, when you are not so satisfied with your performance, when you are disappointed with your loved ones or yourself, and when you feel that you can no longer persist, please remember to say to yourself: Never mind, we all grow up this way.