Enterprise standard in 2021 List of "leaders"
Enterprise standard in 2021 List of "leaders"
Recently, 21 enterprise standards selected by the metallurgical industry planning and Research Institute were included in the "leader" list of enterprise standards of the General Administration in 2021, and were officially released!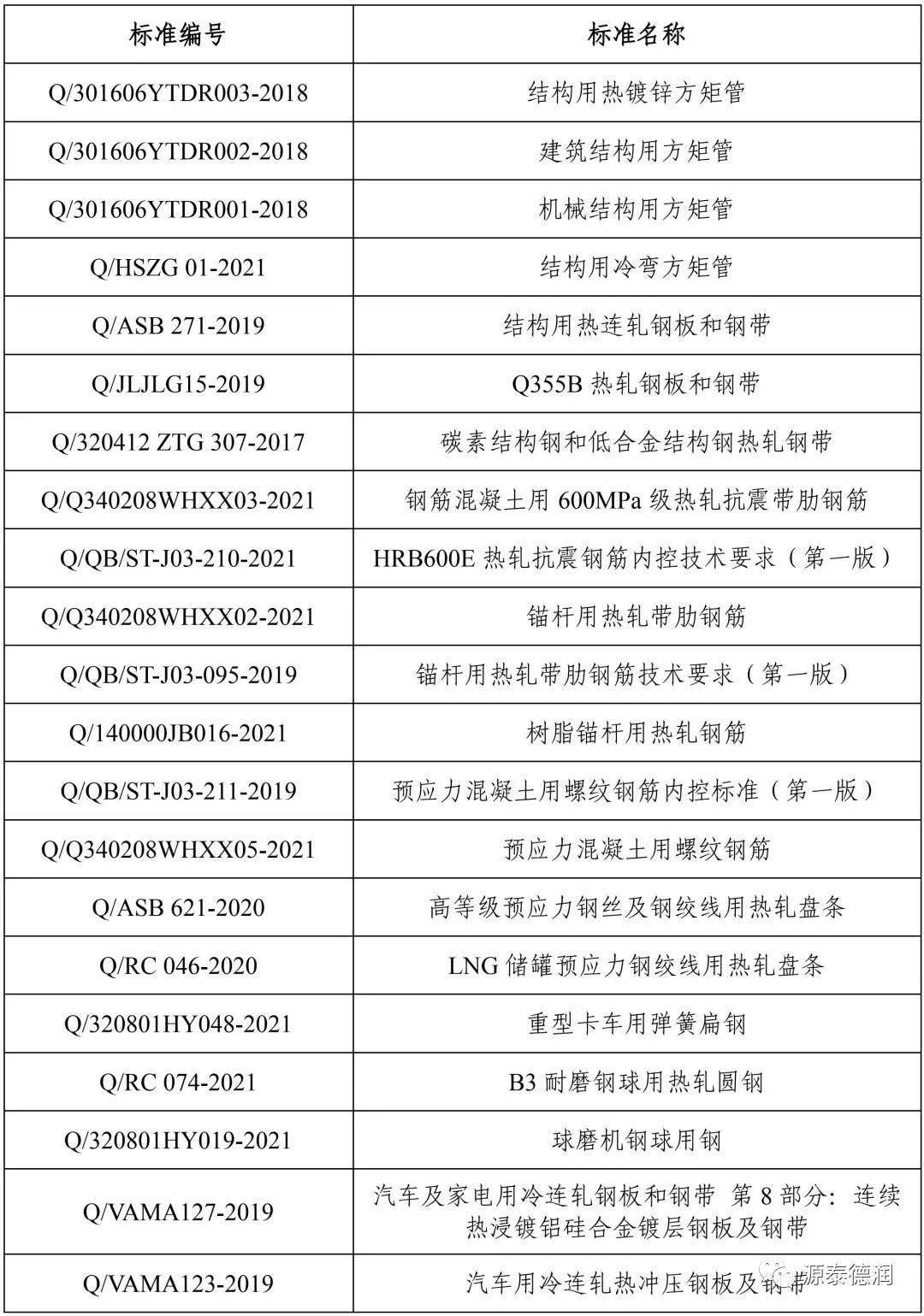 In the field of steel rolling processing, Angang Co., Ltd., Wuhu Xinxing Casting Pipe Co., Ltd., Jiangsu Shagang Group Huaigang Special Steel Co., Ltd., Zhongtian iron and Steel Group Co., Ltd., Shiheng Special Steel Group Co., Ltd., Tianjin Rongcheng United iron and Steel Group Co., Ltd., Shanxi Jianbang Group Co., Ltd., Jilin Jianlong iron and Steel Co., Ltd 21 enterprise standards of 11 enterprises, including Valin ArcelorMittal automobile plate Co., Ltd., Tianjin yuantaiderun steel pipe manufacturing group Co., Ltd. and Shandong Huashun Heavy Industry Group Co., Ltd., have been listed in the "leader" list of enterprise standards of the General Administration in 2021!
In this selection, three enterprise standards of the company won the "leader" certificate of enterprise standards in 2021, which are:
Q / 301606ytdr003-2018 hot dip galvanized rectangular pipe for structure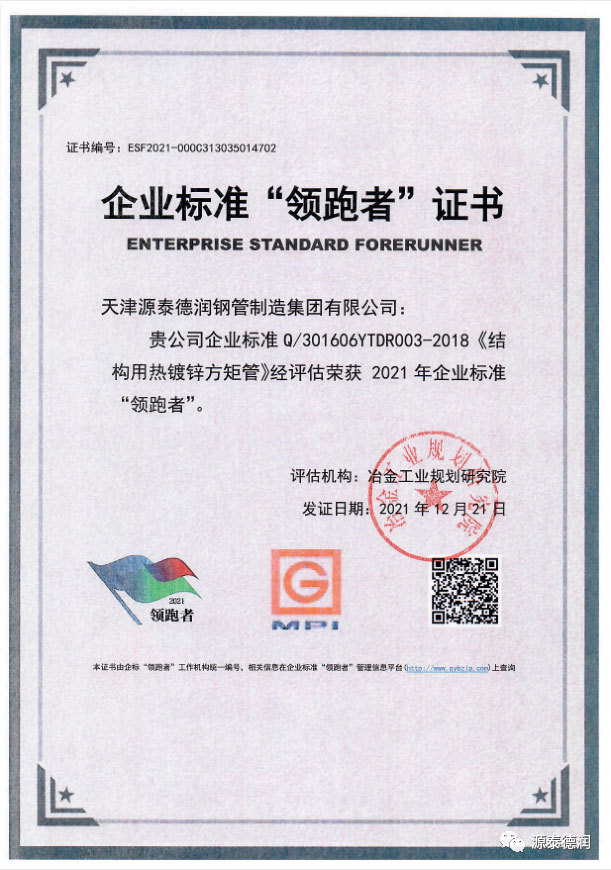 Rectangular tubes for building structures (Q / 301606ytdr002-2018)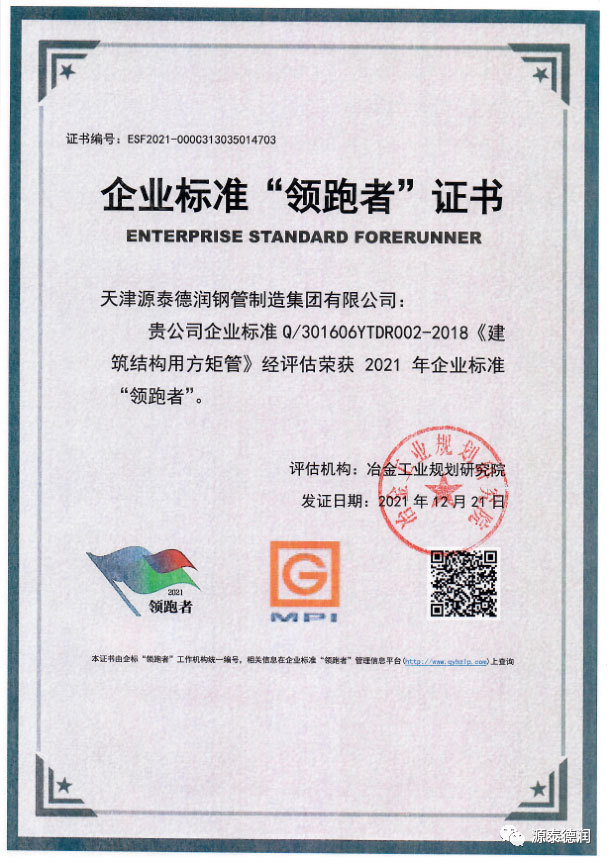 Rectangular tubes for mechanical structures (Q / 301606ytdr001-2018)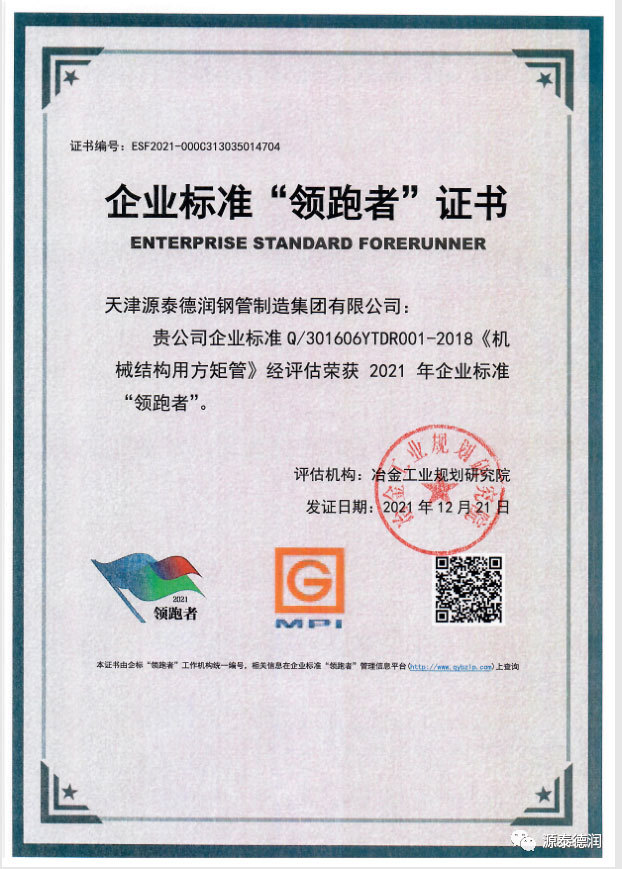 Tianjin yuantaiderun group has carried out extensive cooperation in production, learning, research and application with top consulting institutions, colleges and universities, scientific research institutions and industrial alliances in the domestic iron and steel industry, and has more than 60 technical patents. Advanced production equipment, exquisite technical force, excellent management and technical personnel and strong financial strength provide a strong guarantee for the production of high, fine and advanced products. The company's 500 m3 unit, 300 m3 unit and 200 m3 unit production lines have realized the electronic control automation from type change to finished products, which is the most advanced high-frequency steel pipe production technology in China.
The group has 51 black high-frequency welded pipe production lines, 10 hot-dip galvanized processing lines, 3 spiral welded pipe production lines and JCOE φ One 1420 double-sided submerged arc welded pipe production line. Square steel pipe products are widely used in fabricated steel structure buildings, glass curtain wall projects, steel structure projects, large-scale venues, airport construction, high-speed, roads, decorative guardrails, tower crane manufacturing, photovoltaic projects, greenhouse agriculture, shanty buildings, bridge manufacturing, ship, automobile manufacturing, machinery manufacturing and many other fields, and have been highly praised in major construction projects.
China's Derun one belt, one road supplier of China's Ministry of agriculture, is the only supplier of 70 thousand tons rectangular pipe product in the Egyptian agricultural greenhouse project. It is a supplier of the hot galvanized rectangular pipe products of the Hong Kong Zhuhai Macao Bridge project. It is a national key pipe works supplier of the National Stadium, the National Grand Theater and the Beijing Tongzhou administrative service center. It is China Minmetals, Shanghai construction, China railway construction, China national machinery, Hangxiao steel structure, multidimensional united group and other well-known enterprises are high-quality partners.
The standing stock of Yuantai Derun group is more than 200000 tons, and the available specifications are:
20 * 20 * 1.0-1000 * 1000 * 50mm square pipe
20 * 30 * 1.0-800 * 1200 * 50mm rectangular pipe
Φ 20— Φ 1420mm structural round pipe
Φ 219— Φ 3620mm spiral welded pipe
All kinds of wall thickness, all kinds of materials, and special-shaped modification and drawing pipes can receive orders, and also engage in logistics and trade. We are committed to providing excellent quality and service for steel pipe users!