Tianjin Yuantai Derun Polishes the Business Card of China Steel Pipe
Tianjin Yuantai Derun Polishes the Business Card of China Steel Pipe
Tianjin Yuantaiderun Group, as a national high-tech enterprise and a leading enterprise in China's rectangular tube industry, is a large joint enterprise group focusing on the production of
black square pipes
and
galvanized rectangular tubes
, taking into account logistics, trade, etc. Over the years, Yuantaiderun has focused on the R&D and manufacturing of square and rectangular tube products, with more than 60 patents. At present, the product specifications cover all categories of square and rectangular tube market. This year, the Group has built a new double-sided submerged arc large straight seam intelligent production line. The product specifications cover the mainstream
structural round pipes
from the minimum diameter to the maximum diameter. At the beginning of production, the Group has provided thousands of tons of products for Tianjin New International Exhibition Center, which has won unanimous praise from customers. At the same time, the application of intelligent technology has not only improved the production efficiency, but also made a great leap in welding quality and technology compared with before, and also made up for the blank in the production of related products in Tianjin.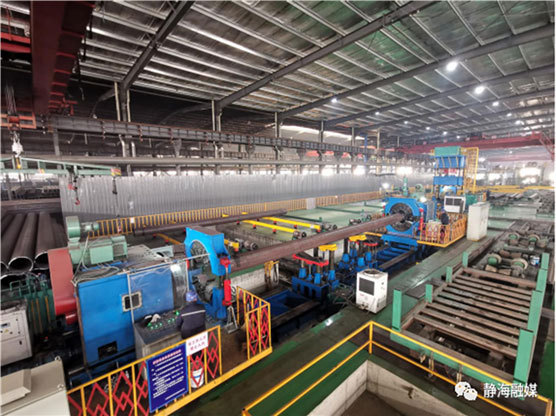 In recent years, Yuantai Derun has been committed to upgrading from a product oriented enterprise to a service oriented enterprise and a platform oriented enterprise, and has taken the lead in proposing the concept of "one-stop service" in the industry to provide order users with unified purchase and delivery, secondary processing, and one ticket transportation services. At the same time, we continued to expand our sales channels. Through the "Internet plus" strategy, we independently developed and launched the "Global Moment" sales platform and WeChat order self-service quotation program, built a "one-stop service" big financing platform, and achieved a qualitative change in the marketing model.
At present, Yuantai Derun, in combination with the national emerging industry development strategy, focuses on the field of prefabricated buildings, increases its research and development efforts, and participates in the preparation of a number of relevant prefabricated industry standards while producing high-quality products, providing reliable products and references for the development of prefabricated steel structure buildings. In the future, Yuantai Derun will follow Jinghai's high-quality development pace, focus on standardization and intelligent manufacturing, and further improve its production and service capabilities. At the same time, on the basis of good raw material product suppliers, we will provide customers with integrated services for semi-finished and finished steel structure components. By integrating the supply chain and shortening the industrial chain, we will create new incremental value for the society and contribute to the development of Jinghai fabricated steel structure construction industry.